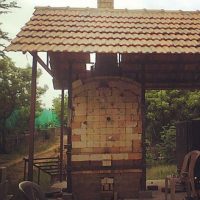 From 2011 through till early 2013, Kaveri was the Ceramicist in charge of the Ceramic Centre at DakshinaChitra, Craft Museum, on the East Coast Road, just South of Chennai city.
While there, she deviced a clay body, a system of making and mixing clay, and conducted regular wheel throwing classes as well as numerous short term workshops on a variety of topics, ranging from Ganesha and diya making workshops for Ganesh Chaturthi and Deepavali festivals respectively, to running in depth glaze workshops.
She also built a wood fired kiln for them which was funded by a Korean artist, Jae Jun Lee, through the InKo Centre, Chennai. The kiln was built according to the Upma kiln design by Ray Meeker.