Pothole, the shop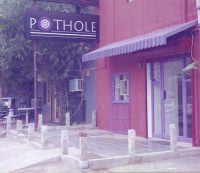 2003 October to 2004 October Kaveri, in a business partnership with Renuka, ran a retail outlet called Pothole. Here she sold hand-crafted ceramics from potters around South India, and also  tools, pottery books, etc.  Pothole also organised and curated pottery related events.
A sampling of events that  Pothole facilitated are:
Conducted a "cup-a-thon", outside the Pothole store, in aid of Nalamdana, a charitable trust, working in health awareness and education.
Curated and organised a show of Ceramic Platters from all over India, called "Potters Platters", at Forum Art Gallery.
Organised and co-hosted the screening, at Forum Art Gallery, of the premier of the film, "Golden Bridge Pottery", directed by Rajiv Krishnan and Ray Meeker
Curated a show of Ceramic at The Park Hotel, as part of the "Other Festival"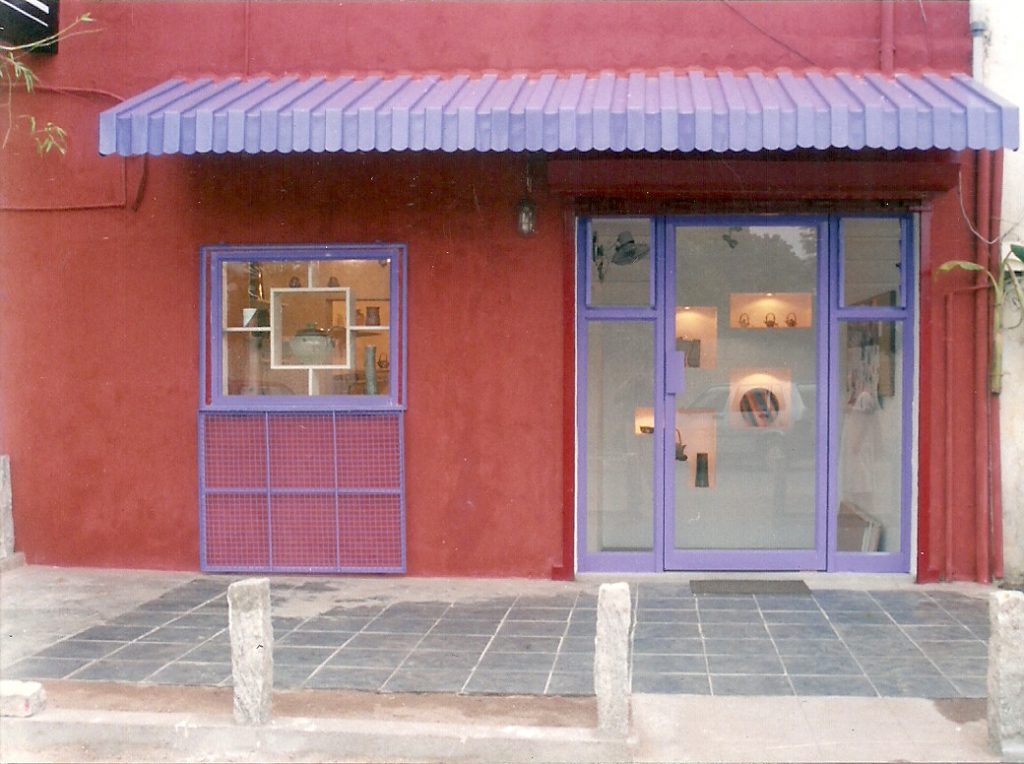 Unfortunately, Pothole could not sustain itself as a business, beyond a year, and had to close down, in October 2004.
Pothole at The Farm
In 2012, Pothole re-surfaced as a stall at a "Mela", that was organised  by The Farm, on the Old Mahabalipuram Road, (OMR), in Semmancheri, just South of Chennai city. The stall had pots made by Kaveri on sale, and also offered a quick hands-on "clay play" session for anyone who was interested in trying their hand at claywork, or raku glazing and firing on the spot, on pre-bisqued pieces by Kaveri.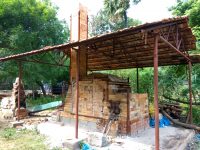 The success of the stall at the Mela, became the impetus for Kaveri and the owners of The Farm, Arul and Shalini, to decide to start Pothole at The Farm – a working, community studio. It started with a single kick wheel and a small terracotta kiln, in 2013.
In 2014, Kaveri crowdfunded and build a 22cu.ft. capacity, wood fired soda kiln, with a bourry fire box. This kiln was the first ever crowdfunded kiln in India, crowdfunded on the Wishberry platform.
Pothole at The Farm conducted and organised workshops, classes, and eventually also made some ceramic ware for use at The Farm's restaurant and for sale in their shop.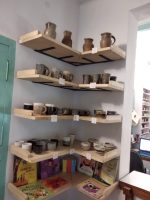 Between 2014 and 2019, Pothole at The Farm held numerous short term workshops and classes for wheel thrown pottery. By 2018, it had 3 kickwheels. Visiting ceramic artists held presentations and workshops, occasionally.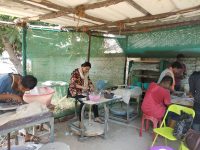 However, as Kaveri was the only person working here, other than occasional short term interns from NID, Ahmedabad, and from NIFT, Bhopal, the maintenance and sustainability of the place became more and more difficult, expensive, and time consuming, leaving very little time or resources for making ware, or teaching.
In early 2020, as it was not proving viable for Kaveri to run it, or for The Farm to support it, the hard decision to close it down was taken.

Pothole, Online
Just as the Covid-19 pandemic hit in Feb-March 2020, and "Pothole at The Farm" was closing down, Pothole itself saw a rebirth online, as a virtual teaching forum for all things ceramics and clay related.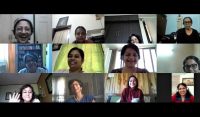 The first online workshop was a glaze theory workshop by Kaveri, from the 31st of March to the 5th of April, with 11 participants from around India.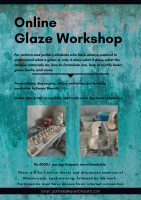 Energised by the positive feedback, Pothole Online now conducts classes and workshops on a variety of ceramics and clay related aspects.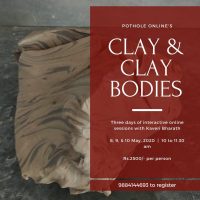 The plan is to also host webinars and have guest lectures by ceramic artists and later when more accessibility to the studio is possible, to also do virtual demonstrations for a far wider audience than those who can travel and attend physical workshops in other studios.